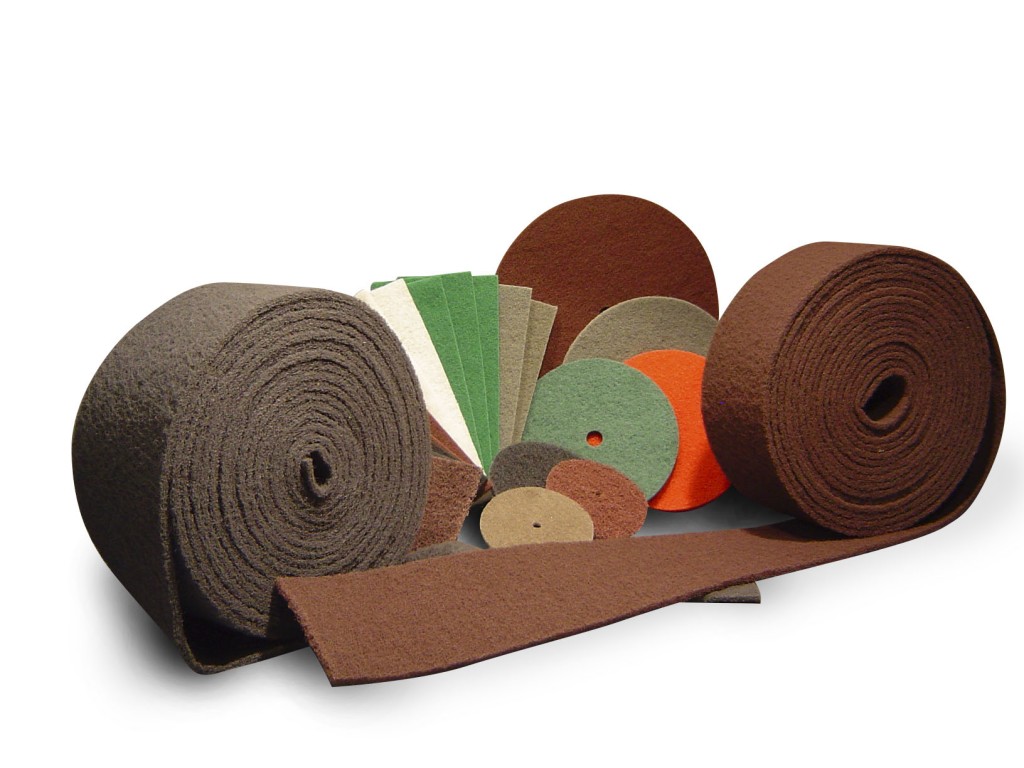 NON -WOVEN ROLLS AND PADS
The non-woven abrasive is a non-woven web of nylon fi bres, impregnated throughout with abrasive grain and bonded with synthetic resins. There have always been two versions, the silicon carbide (dark grey colour) and the aluminium oxide, but recently we presented the new light blue version, made of zirconium. Converted into traditional size pads (for orbital and linear polishers) and into anti-waste stripes, it's usually for wood, iron and automobile bodywork.
---
Pads standard dimensions mm 120 x 280
Rolls standard dimensions: h mm 100 / 120 x 10 m
Available grits: AC – AM – AF – AVF – SM – SF – SVF – SSF – SUF600 – SUF 1000 – ZC – ZM – ZF – Z – BIANCO – VERDE
Other dimensions available on request
ABRASIVE NON-WOVEN h 2 cm
Available colors: WHITE – RED – BROWN – BLACK – GREEN
---
---
NON -WOVEN DISCS
The disks with hole, made with the complete range of abrasive fabrics, are used on machines with fixed pivot, using a number of them in order to cover the desired width for finishing, cleaning and preparing the metal parts for the subsequent galvanising.
---
Available diameters: from mm Ø 20 to Ø 800
Available grits:  AC – AM – AF – AVF – SM – SF – SVF – SSF – SUF600 – SUF1000 – WHITE – GREEN